Sponsors
South Bay Soccer Association
is a non-profit, all volunteer,
recreational youth soccer
association for the youth of
Los Osos/Baywood Park and Morro Bay.
ON LINE REGISTRATION HERE

Season Player Registration Packet
Registration can be completed at Stan's House
on his front porch. 2588 Ocean View Pl.
Registration Fees:
U6: $95 U8 and Up: $115
(Waiting list currently in effect for U8, lack of coaches)
$5 discount for each additional child in immediate family after the first child is registered.
Sweatshirts / T's available, click image to download order form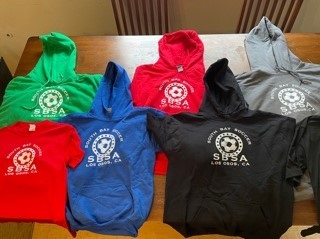 Contact
our
Board of Directors
Follow us on
Facebook and Twitter

Twitter: @SouthBaySoccer1

Mailing Address
:
SBSA, P.O. Box 6432
Los Osos, CA 93412-6432
Online Registration will require online registration and a Cal South / Afinity Sports registration.

Cal South is requiring a COVID waver by all parents be signed, in addition to a signed concussion hazard acknowledgement page.
The acknowledgements are uploaded automatically when initialed and sent
These will be required before your child's registration is complete.

All Coaches and Administrators will be required to complete: Covid, Concussion, Cardiac, Safe Sport, and Risk Management.

Board meetings are the Second Thursday of each month, currently Zoom meetings please contact a board member for login information.
We are currently looking for additional board members.